Recent reports of a cyclist being detained for not wearing a face shield have caused confusion once again over a matter that has long been resolved by various local government units as well as the Department of Health (DOH).
Any criminal lawyers in my TL? I need help/advice for a friend. He was booked by the police kasi nasita daw siya for not having face shield while biking. Kaso my friend argued and he was arrested for "resisting arrest". Now he is detained. No deets yet, waiting for report

— Chocolate Dazed (@ChocolateDazed) April 4, 2021

In December 2020, the DOH stated in Department Memorandum No. 2020-0534 that "Individuals engaged in strenuous activities/work… and active transport" shall be exempted from wearing face shields. It also indicated that face shields must be worn before and after the exempted work, task, or activity. This means that cyclists are only required to wear their face shields before and after riding their bicycles.
You may download the department memorandum here: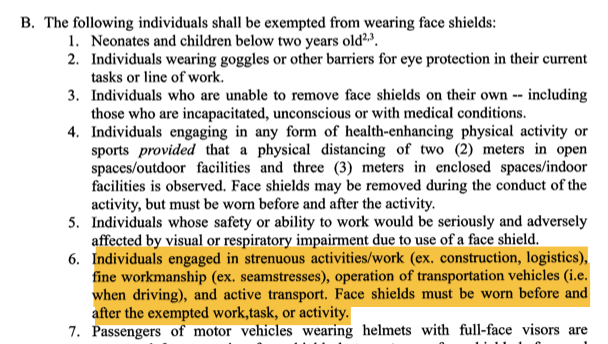 This was reiterated by the DOH in January 2021 in Memorandum Circular No. 2021-0007. "Due to the possible vision impairment face shields bring, bikers and users of other forms of active transport are exempted from the mandatory use of face shields outside of their residences provided that they wear face shields before and after biking or engaging in any other active transport." The clarificatory guidelines on the mandatory use of face shields was a joint memorandum circular between the Department of Health, Department of Trade and Industry, Department of Labor and Employment, Department of Transportation, and the Department of Public Works and Highways among others.
You may download the memorandum circular here:

Cycling Matters also issued a statement on December 18, 2020 clarifying its stand on the mandatory use of face shields stating the lack of data to support its efficacy in curbing COVID-19 transmission as well as its adverse effects on cyclists' riding experience.