Are you itching to join a cycling event but can't manage to work out the budget or the logistics? Maybe you're too occupied with work and can't be bothered to take the time to escape the urban jungle to bike. We feel you, and we know how frustrating it could be. But worry not, these virtual cycling events were designed exactly for you.
GORIDE.PH / Rouler's Race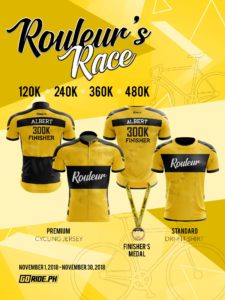 GORIDE is a virtual cycling event that will be held during the entire month of November 2018. Participants can choose  to join four different categories depending on the distance they want to ride for the month: Neophytes for 120 kilometers; Elites for 240 km; Bravehearts for 360 km; and Enduro for 480 kilometers.
Participants are allowed to use fitness apps such as Strava, Garmin, Nike+, and Samsung Health to record their ride sessions throughout the month, although the organizers encourage the use of Strava. Proof of recorded ride sessions can then be submitted to their website where you will have  to register with an email address and password to upload screenshots of your sessions.
The registration fee starts at ₱1,200.00 for the Standard option, which includes a limited edition finisher's medal and full-sublimation dri-fit shirt. The Premium option, on the other hand, will get you the limited edition finisher's medal and a technical cycling jersey for an additional ₱550.00 on top of the registration fee. The best part? The prizes will be delivered straight to your doorstep, 8–15 days after the virutal event ends.
Check out GORIDE.PH to see more details about the event
November Ride by Train Race Inspire Sports Apparel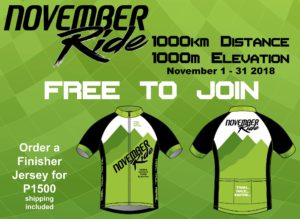 This ride is the fifth "season" of the sports apparel brand's virtual ride challenge and will also be held throughout the month of November. Anyone is free to join the ride without paying a registration fee, but ₱1,500.00 will be collected from participants who choose to order the Premium finisher jersey after the race.
It's all fun and games until you realize that this virtual race is similar to Everesting in that it has a definite goal, which is to rack up 1,000 kilometers of distance and 1,000 meters of elevation within one month before you can be considered a Finisher.
More details about the event are expected to be announced in the coming weeks as registration starts on October 15 and ends on November 9.
Check out the November Ride to know more about the challenge.